Welcome to the first Inbox.lv e-news for marketing professionals!
I am delighted to share with you the first Inbox.lv news release for marketing, media and advertising professionals.

Digital communications and marketing importance continues to increase. This is evidenced by the fact that last year Internet advertising market grew by 20%, while the mainstream media advertising continued to decline. Let us look at international statistics, which will be covered deeper in the article "The Internet's victory march continues."

Meanwhile, above mentioned industry is still developing in Latvia. I think we all are responsible for the growth of the industry, so I'm happy about the recent annual marketing and social media conference "LMT DIGITAL 2014″, which brought together so many stakeholders. During the course of discussions with experts we conducted a brief survey, the results of which you can read in this news release!


We have also compiled some useful suggestions for improving e-mail and Internet advertising efficiency.

Internet world is diverse and fast-changing. Therefore, we have chosen to publish these e-newsletters, collecting various trends, interesting and innovative solutions, insights and data to be your guide in digital hurdles.

Latvian marketing experts about digital industry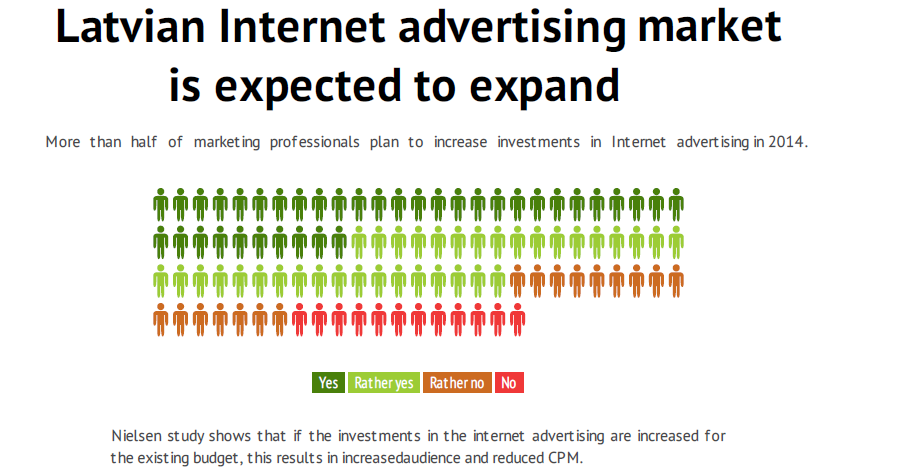 The Internet's rapid victory march continues. World Wide Web is gaining increasingly larger share of the advertising pie at the expense of traditional media.

Latvian internet advertising market growth in a couple of years ago experienced a surge, but now the investment amount is not proportional anymore to the industry development figures and consumer media usage changes.

For example, we invest about 8.25 euros in one internet user, while the Netherlands invest about 68 euros per person per year, Russia – 23 euros, Czech Republic and Denmark spend 17 euros to reach user online; even Taiwan investment in online advertising is bigger than Latvian, about 12 euros.

Last year, digital media was the one to experience the fastest increase for advertising amount and to reach a revolutionary milestone – for the first time in the history the Internet surpassed newspapers, becoming the second largest advertising channel behind television.

According to the "Zenith Optimedia" company estimates, in 2013 the Internet acquired 20.6% of the global advertising market share, but the newspapers share fell to 17%. For comparison – until recently, in 2005, newspapers controlled 29.1%, but the Internet – only 5.6% share of the global advertising market.

Importance of the Internet as a source for their service and product sales promotion has been appreciated by advertisers. Currently, American companies have an average of about 20-23% of their advertising budget investments in marketing on the internet, but the world's biggest advertiser "Procter & Gamble" has allocated up to 35% (!) of the total marketing budget for advertising on the Internet last year.

It is expected that the Internet advertising market will continue to grow this year as well. According to the estimates of "Econsultancy" company, 71% of the world advertisers plan to increase spending on Internet advertisement this year. In addition, 12% of companies that intend to re-allocate their marketing budget in favor of the Internet, noted that investment in online advertising in 2014 will increase by more than 50%.

Number of Internet users continues to increase, furthermore, it's happening at the expense of the older generation. We must therefore hope that global trends will find their way to Latvia and will motivate us to make better use of this channel, allowing advertisers to reach their audiences more effectively.

At the end I have to smile and say that in Latvia, active investment in digital advertising solutions and improvement of the efficiency is similar to the diets before the beach season – everybody is talking about it, but very few really do something about it.

Sequence and the shape matter – at least in terms of advertising on the Internet…

The Internet and mobile devices have significantly changed the way consumers interact with screens, including the advertisement. Today, the economically active audience does not pay full attention to one specific activity or screen, but to a number of them at the same time, which increases the importance of advertising sequence and shape.

Research by U.S. organization "Interactive Advertising Bureau" (IAB) shows that three-quarters of the respondents use multiple screens at the same time. For example, television broadcasting entirely focuses only one in twenty, or 5% of the respondents, while the longest attention of users capture various PC – stationary, laptops and tablets – screens.

At the same time "Nielsen" study shows that video advertising on the Internet is more influential than TV ads for the 18-34 age group. The research company found out that twice more consumers remember key messages after watching the advertisement on the Internet than watching the same commercials on television, this is also true for brand awareness.

This can largely be attributed to the IAB findings – people do not look on the TV screen, the TV is the new radio, which plays in the background while people are doing other things. Therefore, one of the recommendations in the planning of media "mix" for the abovementioned age group in order to improve the performance levels of brand advertising is to demonstrate the advetisment both the Internet and television.

Sequence is important as well. "Nielsen" findings show that if the ad in whatsoever form is at first seen on the Internet, it will have a greater impact on TV thereafter.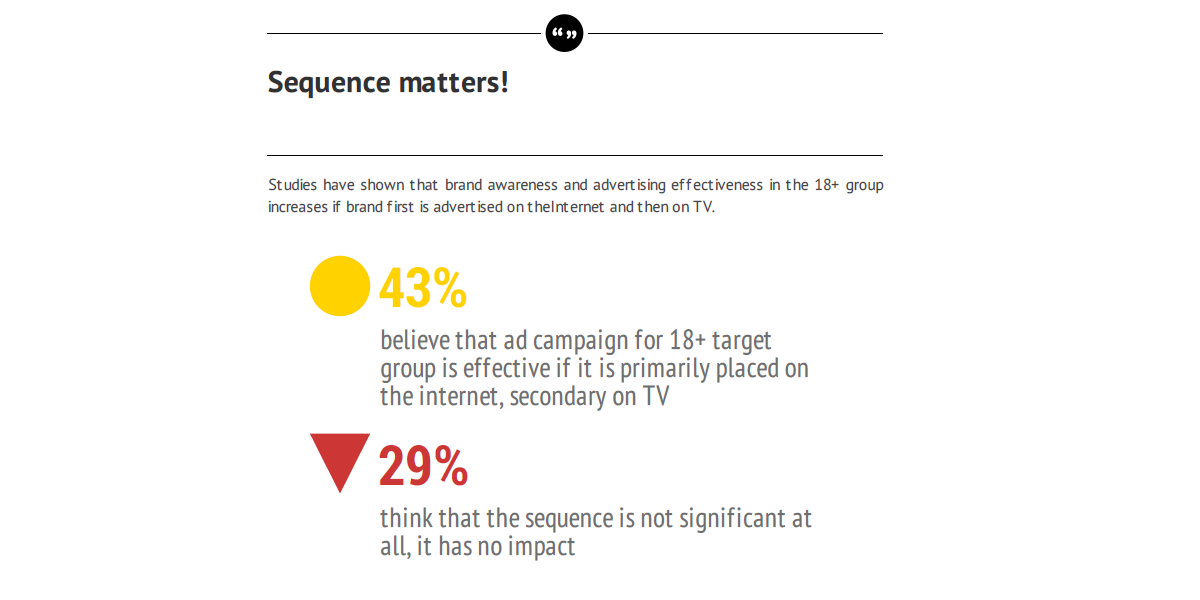 Therefore, when planning advertisement budgets or media placements we have to question ourselves, what are our target audience habits as a media user? How the new technologies have changed them? And how can we adapt to it?
Finally, another interesting fact. IAB respondents were asked if they could choose only one device, which one would they you prefer? Women chose a smartphone and a laptop, while the majority of male respondents preferred portable and stationary computer.

Basic principles of perfect e-mail marketing

E-mail marketing is one of the most cost effective forms of promotion, which is often undeservedly neglected. E-mail checking is one of the most widely used Internet functions, so if the message is prepared properly, then it can be expected to reach the user and activity will be successful. Below we have collected tips to ease your way to an effective e-mail marketing.

First of all, the e-mail header or topic has a direct relation with its content – it contains important information that reveals the essence. Companies too often send letters with creative titles, which have nothing to do with the text under the hood. Nothing can be more annoying than exciting title, but an empty content.

Second, always remember that customer is the key. You need to address the client in your letter, talk about client's interests and needs. Find a balance between advertising and customer needs.

Third, think of modern technologies. When so many customers use a mobile device to read e-mails, design the e-mail so that it can be easily read on a smartphone, tablet, etc..

Fourth, let's respect the recipient's right to unsubscribe from e-mails. Do not hide unsubscribe button somewhere at the end, unsubscribing process must be made as smooth as possible. If user can not do it quickly, then this e-mail is followed by the next one and then the next one again and user attitude to company starts to shift towards negative.

Fifth, in terms of online communication – "less is more". Don't oversaturate the content with images (if for no other reason than it will take much longer to open such e-mail on mobile devices) and excessively long texts. Average person can easily read up to 4000 characters long article on screen.

We are absolutely confident that properly designed e-mail offer can become one of the most effective tools to reach your customers in order to promote sales and strengthen loyalty.