Welcome to the second "Trendbox" news digest! As already promised, it is always about interesting things and trends going on in the digital world.
One of the key words of the modern age is "dynamics", because this is how the world around us changes and we ourselves are dynamic, too. Nothing is no longer set in stone, including media usage habits. Although audience with highest purchase power consists of the generation that was born and raised at a time when the market was dominated by the so-called traditional media (TV, radio, newspapers, magazines, etc..), it has dynamically moved to the online environment. These issues are widely discussed because, as it turns out, struggle for consumers now takes place on the Internet.

Common trend of media usage habits is that Internet is increasingly becoming a priority media for different age groups. Its advantages use such giants as "Kraft Food", which saved 80 million dollars just because the ads were placed on the Internet rather than TV, and the return has been just as great. Interestingly, according to the Latvian Advertising Association, Latvian market contrary to the trends in the world still holds high volume of advertising on television, where the advertisement amount is three times bigger than on the Internet.


Just for the fun we have researched, how the Latvian Internet users perceive a variety of media and information available. This also could be useful – more information on "Inbox Polls" survey results here. One could say that as soon as the user has access to multiple devices, the attention becomes divided.
Knowing that we all are adepts of modern technologies, then this time we chose to review the topic of data privacy. Nowadays, when there is such a wide and diverse range of services, it may be useful to know how large corporations use our data and what consequences may arise.

Struggle for consumers now takes place on the Internet


A few years ago entrepreneurs considered that if their products are not available for purchase on the Internet, then it is not worth it to invest in advertising on this channel. Analyzing today's consumer behavior and media consumption, it is clear that this is no longer true. Brand and product awareness are important and can be obtained if the product is advertised where the buyer is – on the Internet.

The new millennium children are practically born with smartphone in their hands while 35+ generation has grown up in an era when traditional media – TV, radio, newspapers, magazines, etc. was at the popularity peak. This does not mean that 35+ generation does not change the media usage habits – on the contrary, all advertisers must take it into account.

"Gemius" recent data suggest that the number of Internet users in Latvia in the age group of 35+ continues to increase, while in the age group 15-24 it drops.

A small insight into the media usage habits of different generations, where we can "meet" them and of what age they are.

Analyzing the media consumption of different generations, the usual division is into "generation X" (born in the 20th century mid 60s to early 80s), "generation Y" (born in the 20th century 80s until 2000 ), "generation Z" (born after 2000).

"Generations' breakdown"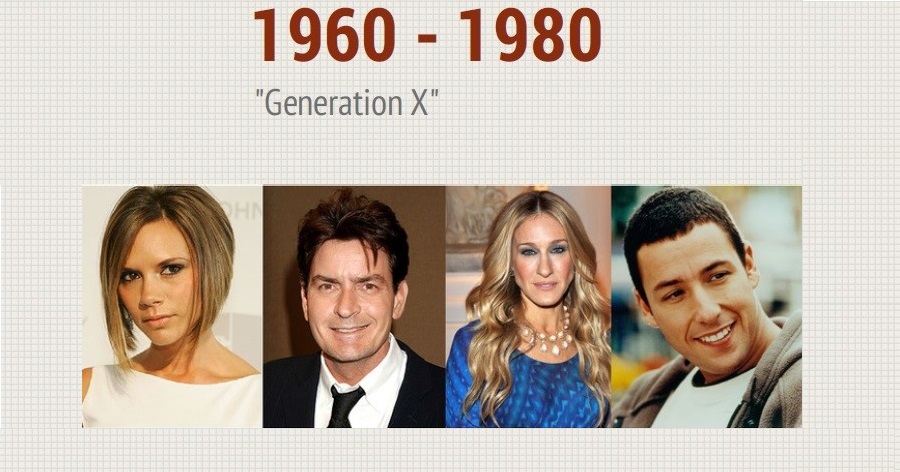 Undoubtedly the Internet today is the fastest and most accessible source of information. The data show that "generation X" uses fixed internet connection at home the most, while mobility is important for the "generation Y" and "generation Z", thus they are more likely to use wireless Internet networks outside the home.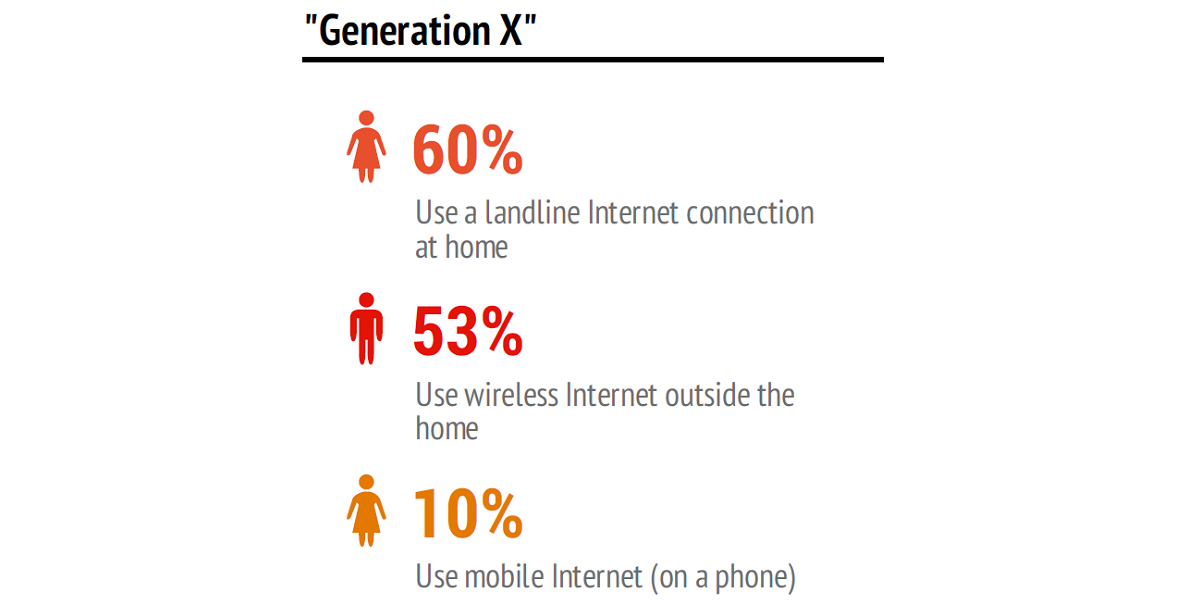 Stationary computers and laptops are the most used digital devices to obtain information both at work and outside of it for all generations.

"Digital devices usage habits"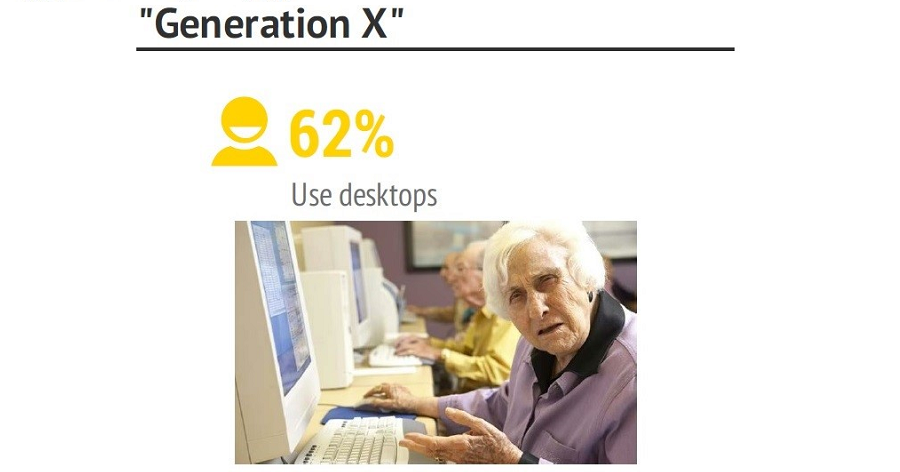 Compared to "generation Y", "generation X" more uses Internet to shop online, which is also advertisers' potential target audience – 67% in Latvia. Young people still spend most of their time on the Internet, communicating with peers in social networks, looking for studies or job opportunities and using the Internet as a leisure activity.

Internet users in Latvia perceive information more easily on their computer screen


Multi-functionality is as old as television. If in the past we were eating, talking, might have been reading while watching TV, now we are using a laptop, tablet or phone. And unlike the previous activities, this digital devices create another parallel flow of information which we need to focus on, thus being the reason why the rest of the content remains in the background.

"Inbox Polls" survey showed us how Internet users in Latvia use media

Research of international organization "Interactive Advertising Bureau" (IAB) suggests a similar trend. It found that the number of devices in use is greater among people who have more than two devices, such as television, computer and mobile phone.

IAB published study also overturns the belief that people who use multiple devices, less remember the content, let alone advertisers. Turns out to be quite the opposite. On average, 46% of respondents were able to recall their favorite broadcast's supporters, but among the respondents who use four devices and in the age group of 18 to 44 years, 61% have remembered the advertisers, because have already seen them online.

Technology becomes simpler and the Internet becomes more accessible, and therefore it is expected that the number of digital media and devices' users will continue to increase. In addition, this will happen on the expense of the older generation.

TOP5 Corporations' troubles with data privacy and security

It might be a true joke that the greatest lie today are the ones that I have read, understood and agreed to the website's terms of use and privacy policy. On average, we don't go into detail with these documents and even less into the algorithm principles of various search engines like "Google". However, now and then it can prove to be quite pricey.

Any of us can accidentally run across some of the country's secret documents in "Google" search engine, or even unwittingly distribute your own. Be careful!

1. Private data becomes public due to "Google" search algorithm
When "Google" changed its search algorithm in 1999, search service "robots" also began to recognize information, located on FTP servers without any passwords. Therefore, data, which until now was sort of private and protected, unwittingly became publicly available. This way Yale University student personal data was leaked.
"Google" serach still works this way!

2. Japanese government leaks secret documents due to incorrect security settings
In 2013, Japanese Ministry of Environment, leaked a series of restricted documents through "Google" free online discussion service "Google Groups". Failure occurred when defining privacy settings, because it turns out that by default, information posted via this service, is publicly available.

3. Random errors in the database cause leak of 16 thousands customers' data

Telecommunications operator's "Telstra" IT partner developed and delivered a new customer database, but as it turned out, by mistake forgot to "turn on" the access. So about 16 thousands of customers' personal data (name, address, telephone number) became available through the "Google" search. It was accidentally discovered by one user.

4. "Facebook" king's sister private photos leak to twitter.com
In 2013, personal photos of Randi (Randi Zuckerberg), "Facebook" owner's Mark Zuckerberg sister, became public, even though they were published in a private message tab. Tagging and sharing of pictures led to another social networking site – twitter.com.

5. Medical history, the results of analyzes, information on psychotraumas – everything becomes public
Yet this year, an American company that provides medical data overwriting electronically, provided public access to several thousan's patient data because of lack of data protection methods. Medical history, test results, psychotrauma information, etc. were stored on an FTP server, which did not have password and anyone informed about the server was able to access it (this is why the data was indexed in "Google" search).

"GMR Trascription Services" received punishment from the United States Internal Market and Consumer Protection Committee.